This is my last week of Christmas break before I start another grueling semester of school. Happily, I was able to finish 10 books from the moment I began my break (which was on 22nd of December) until today. It's actually a huge improvement because I had to rush on my reading challenge last year because I was like 4-5 books behind schedule. I barely reached my 90 books goal of that year. For 2018, I've lowered that number down to 50 books, as I know I wouldn't be able to reach a really high number anymore. I actually remember my friends (who are in the upper batches) tell me that I should stop reading books a month prior my first day of classes because I will be reading a hell of stuff once classes start. And oh boy they were right.
As most of you already know, I'm currently taking up my first year of medical school. Guys, it's tough – I tell you. I mostly spend my time either studying or sleeping – nothing in between. When I do have a little amount of spare time to consume, I use it to sleep some more or review my previous lessons.  I was never the one to do advance studying, and I would only do that if the professors announce a pre-quiz before the class starts.
So, I'm here to enlighten you guys on how I TRY to manage to read non-medical books – especially Snell's Clinical Anatomy, Guyton and Hall's Textbook of Medical Physiology, and Harper's Illustrated Biochemistry – during my first semester. You can actually use this technique also if you're still in college or even high school!
Make sure you have done all your schoolwork.
I have been doing this technique for ages – even back when I was still in high school. When I get home, I immediately get changed and start on my homework. Most people I know have this nap-eat-study-sleep-study pattern going, but it never worked for me. I "tried" to do it, but it always fail. What I do when I get back to my dorm is to change out of my uniform, eat an early dinner, and then spend the rest of the night studying for an exam or reviewing that day's lectures. And around 12-1am and I feel really sleepy, I pick up my Kindle and read a few pages in until I fall asleep.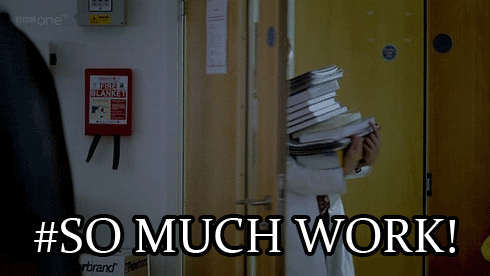 2. Have an E-Reader
This is actually the most effective tool I have in terms of reading books while in school. It doesn't matter if it's your tablet, a Kindle, a Nook, or you have an app on your phone – as long as you have one. Sure, I still prefer the physical copies of books, but with my schedule, I just don't have the strength to lug it around. I just recently got my own Kindle Fire this year, and it helped me a lot in both my school work and reading habits. I always bring my Kindle to class because it's where I store my notes and ebooks of my schoolbooks. And it's really light so it doesn't take too much space in my school bag. And if you're like me who doesn't need to fill in gaps of silence with conversations, this would work for you. Whenever I'm waiting for the next professor to arrive or there is still a bit of spare time before lunchtime ends, I take out my Kindle and read a couple of chapters in that time gap. I don't really like talking with a lot of people just to amuse myself, so I settle in comfortably in my chair and read a few chapters of the current book I'm reading while waiting for the next class to start. And this can also work to if you're bored in class and you can't understand a thing anymore from the lesson lol.
3. Read a genre that won't make your brain work too hard
The first semester of my med school life involves digesting and reading a lot of things in a very short amount of time and it would often make you want to vomit all the information that you learned at the end of the day. Whether it's memorizing the parts of the heart and pericadial cavity or trying to understand the different metabolic pathways, it's a lot of work. So, I had loaded up my Kindle with a lot of New Adult and Adult Contemporary novels, because this is the genre that I read effortlessly and without thinking too much, and it is my go-to genre when I don't feel reading my other favorite genres. As a big fan of anything fantasy, paranormal, and sci-fi, I suddenly found these genres unappealing during those months because it takes a large amount of effort to get into the story. My brain is already too tired from classes, so it would not be able to imagine a new world as described in a fantasy book.
And it helped a lot! Actually, when I reviewed my 2017 Goodreads challenge, I realized that I've read a lot of NA and Adult Contemporaries during my first semester. The number is few than what I usually do in the previous years, but this style was effective for me. Below are the books that I've read during those grueling months.
4. Lastly, read only if you want to. 
Being in med school has made me experience one of the biggest reading slumps in my life. With the hectic schedule and my body always being tired, I sometimes don't have any energy anymore to read because I need the extra time to focus on my school work. So like any other reading slump, what I do is that I don't pick up any book – at all. I don't want to force myself in reading a new book when I don't want to. If I have a bit of extra time and I don't want to read, I usually go for watching an episode or two of the TV series I'm watching or a movie I had in my laptop.
I previously did a post on ways of getting rid of a book slump and hangover. You can read it here 
Medical school definitely changed my life, because the things I enjoyed before I suddenly had a hard time not doing them as frequently as I want to. All I did was try to adjust myself with both the heavy workload and my hobbies. For a huge bookworm like me, this is certainly a huge change. And I just hope that I can still manage to do this for the next semester starting next week.
I hope I was able to help with you guys!