Title: Love and Gelato
Author: Jenna Evans Welch
Release Date: May 2016
Genre: Contemporary, Young Adult
Rating: ★★★★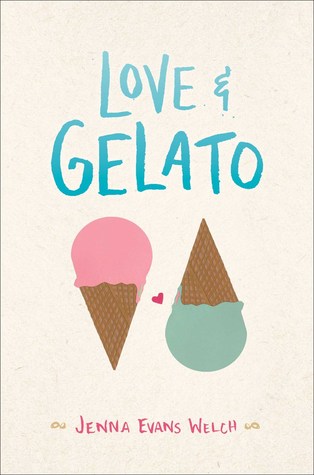 Summary:
"I made the wrong choice."
Lina is spending the summer in Tuscany, but she isn't in the mood for Italy's famous sunshine and fairy-tale landscape. She's only there because it was her mother's dying wish that she get to know her father. But what kind of father isn't around for sixteen years? All Lina wants to do is get back home.
But then she is given a journal that her mom had kept when she lived in Italy. Suddenly Lina's uncovering a magical world of secret romances, art, and hidden bakeries. A world that inspires Lina, along with the ever-so-charming Ren, to follow in her mother's footsteps and unearth a secret that has been kept for far too long. It's a secret that will change everything she knew about her mother, her father—and even herself.
People come to Italy for love and gelato, someone tells her, but sometimes they discover much more. 
My Review: 
"You know, people come to Italy for all sorts of reasons, but when they sat, it's for the same two things."
"What?"
"Love and gelato." 
I actually grew out of reading YA contemporary books a couple of years ago, because I was tired of the similar themes, whiny characters, and very cheesy events that take place. I outgrew them as years pass, and I don't really read much of the genre anymore. But I decided to give this one a shot because: 1) my sister and friends told me to read it, 2) it's set in Italy, which is one of my favorite settings and 3) They all said that there's a hot Italian dude in it.
All I could say is that THIS IS ONE REALLY CUTE AND ADORABLE BOOK! 
At first I was a bit hesitant to start this because I never liked the whole parent-dies-and-teenage-girl-goes-abroad-to-discover-herself. If that was the plot, I wouldn't have read it because it's one of the few very cliche plots that I never liked. But Lina's adventures to Italy was based on her mother's dying wish and that there is a mysterious journal left out for her, so it didn't become a cliche.
All of the things about this book was adorable – the plot, setting, and characters! Everything just had the right amount of cuteness and spunk that I really enjoyed, and I was surprised that I was able to read through the book quickly. How can you not fall in love immediately with a setting that's in Italy? One of the most romantic places in the whole world! I loved how vivid the descriptions of all the places was done, and if I'm not familiar with it, I will pull up a picture from Google and swoon further at how the setting for that particular event couldn't have been more perfect. I loved that the book didn't just focus on the younger characters, but as well as the older ones. It just made the story more wholesome and much more meaningful when it was centered on everyone. I just really enjoyed the interaction between all the characters, especially when Lina and Howard's relationship went from awkward to adorable during the latter pages.
The plot was simple yet enticing. It was pretty straight-forward and catchy, the type that you can't help but not put it down until you've known more about what was going to happen next. I also enjoyed the twists at the last few chapters because it raised the bar more on the story, giving it a much more deeper feeling for the whole story. The book was mostly centered on the themes of family, finding yourself, and love. It was just had a right amount
The romance between the characters was also one of the cute parts. Between Ren and Lina we saw a really cute blooming friendship that slowly turned into love when different circumstances were hurled to them. And as for Howard, Hadley, and Matteo, we got different types of love from them, and how not every relationship is going to be successful.
If you're looking for a light, fluffy read that's fit for the summer, I highly recommend that you read this book!