Title: Scythe (Arc of a Scythe #1)
Author: Neal Shusterman
Release Date: November 2016
Genre: Science Fiction, Dystopian, Young Adult
Rating: ★★★★★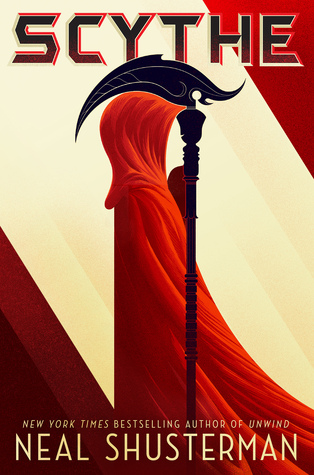 Summary: 
Thou shalt kill.
A world with no hunger, no disease, no war, no misery. Humanity has conquered all those things, and has even conquered death. Now scythes are the only ones who can end life—and they are commanded to do so, in order to keep the size of the population under control.
Citra and Rowan are chosen to apprentice to a scythe—a role that neither wants. These teens must master the "art" of taking life, knowing that the consequence of failure could mean losing their own.
My Review: 
This is one of the books I've seen circulating around Booktube and Bookstagram, and people raving about how good it was. I tend to avoid reading overhyped books lately, because I tend to get disappointed with most of them. But I finally gave in the pressure, especially when the second book just came out, so I immediately bought it during my birthday. And holy sh*t! I'm currently cursing myself for not reading this one soon!
This book is definitely worth the hype and I'm giving it an infinity stars rating! 
I haven't been reading a lot of dsystopian books, since I kind of outgrew them already, and having no idea what the book was about when I picked it up in the bookstore, I thought it was a fantasy book! Lo and behold, when I started reading the first chapter, it was a dystopian sci-fi book. But instead of not continuing it, the first chapter alone took my attention in its firm grasp and I couldn't put it down anymore after that.
I loved everything about this book – especially the plot! It kept me on the edge of my seat the entire time because everything happened so quickly. Sure, there were some chapters that were a bit vague and slow in the beginning, but once things picked up, it just kept rising and rising, and then I couldn't control myself anymore. It's this kind of books that I love because it just consumes you entirely. And all those mini-plot twists throughout the whole book! I loved them a lot, compared to just one big plot twist, as it kept me on my toes the entire time.
The characters are amazing. I loved the diversity of the main characters' beliefs, morals, and stories. Each one of them had such a different background that you can't help but gravitate towards all of them, especially to Citra, Rowan, Scythe Faraday, and Scythe Curie. I really enjoyed reading all of their stories. In a perfect world that they live in, they were able to toe along the grey lines of society. Throughout the whole book, we get to see how each of the characters, especially Citra and Rowan, grow into different people than what they were in the beginning of the book. There is still a bit of romance between Citra and Rowan, but it wasn't the main theme of the book, which I absolutely liked. I loved how their relationship slowly progressed as the story went on.
The issues discussed in the book was my favorite thing about Scythe. Their world is already conflict-free, without anymore worries on human experiences such as diseases and death, and there is a supreme Thunderhead that governs all of the human race, you will expect that it's already a perfect world without humans worrying about things we currently worry about like corruption, war, racism, etc. But oh no. It still exists in the Scythedom! The politics, power-play, and corruption between the Scythes just really shocked me to the core. Because they weren't under the jurisdiction of the Thunderhead, they still had free reign on how they would proceed, such as have their own governing body and set of rules. Like I mentioned earlier, our main characters toed between the grey lines of society, especially in the Scythedom where they constantly looked for loopholes within their short list of rules. Gah, I just loved it! I loved how the whole story revolved not just around Citra and Rowan, but also around the issues that haven't been put to rest in that "ideal" world.
I am now regretting my decision on not buying the second book also! *cries* Now I need to get my hands immediately on it ASAP!
I am HIGHLY REQUESTING everyone to read this book! You won't regret it!