Title: Furyborn (The Empirium #1)
Author: Claire Legrand
Release Date: May 2018
Genre: Fantasy, Romance, Young Adult
Rating: ★★★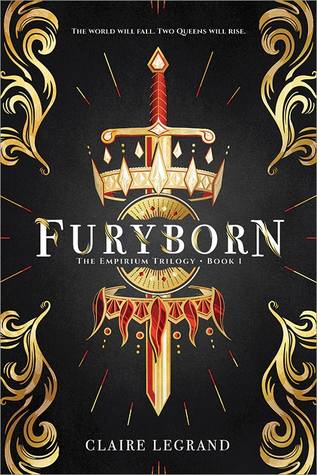 Synopsis:
When assassins ambush her best friend, the crown prince, Rielle Dardenne risks everything to save him, exposing her ability to perform all seven kinds of elemental magic. The only people who should possess this extraordinary power are a pair of prophesied queens: a queen of light and salvation and a queen of blood and destruction. To prove she is the Sun Queen, Rielle must endure seven trials to test her magic. If she fails, she will be executed…unless the trials kill her first.
A thousand years later, the legend of Queen Rielle is a mere fairy tale to bounty hunter Eliana Ferracora. When the Undying Empire conquered her kingdom, she embraced violence to keep her family alive. Now, she believes herself untouchable–until her mother vanishes without a trace, along with countless other women in their city. To find her, Eliana joins a rebel captain on a dangerous mission and discovers that the evil at the heart of the empire is more terrible than she ever imagined.
As Rielle and Eliana fight in a cosmic war that spans millennia, their stories intersect, and the shocking connections between them ultimately determine the fate of their world–and of each other.
My Review:
This is probably the first book I've read this year that has a lot of potential when it comes to its over-all story, but wasn't executed properly. So I will be listing down the things I like and dislike about this book.
LIKES:
1. Remy . He is definitely the smartest person in the whole book, and my most favorite among everyone. He is the most levelheaded character, and I would kill anyone who dares to harm him. He's the voice of reason among the group, especially during the times when Rielle and the other characters were doing crazy and stupid things. I love how he is the dreamer and believer in the group, since that was probably what the plot wants to go.
2. Rielle's trials. The trials that Rielle underwent to prove her control of her powers were good, I've read better similar scenarios from other books. Some of the trials were a bit predictable, but there were a few that took my breath away, and made me anticipate what was going to happen next.
3. Feminist themes . I think one of the highlights of this book that it was surrounded by powerful women. While I applaud the author for doing this, there were a few times throughout the book that made me want to punch both Rielle and Eliana hard because of the stupid decisions they made that were CLEARLY STUPID decisions. I also think that in the final chapters on Eliana's POV about the crawler things made from the abducted women must have played a role in the feminist theme.
4. The backstory of the Saints and Angels While this was not given in a greater detail, I enjoyed the whole saints and angels battling against each other thing going on. I just wished we get to know more about them, and their back story, since it was obvious that this subplot has a lot of substance.
Now for all the things I DISLIKE about this book, which is quite a lot . I won't be explaining everything because this will result to a really long review.
1. Alternating POVs This is the number one reason I did not like this book. It confused the hell out of me! I understand that Rielle and Eliana were the protagonists, but really! The alternating POVs that happened every other chapter destroyed the whole book for me because once you get into one character's POV with the action rising steadily, a whole new chapter and POV makes an appearance that halts that rising action. It's annoying as f*ck and I almost DNFed the book.
2. Inappropriate graphic sex scenes I understood upon starting the book was that it was YA fantasy novel with a hint of romance. What I did not expect was to encounter those very graphic sex scenes that is definitely not in the bounds of a YA novel. While I appreciate romance, this one was so completely unnecessary, and I felt like the whole book revolved around the private lives of the characters instead of the actual plot itself. This was one big GRRRR moment.
3. The world-building wasn't properly executed . Fantasy novels tend to have a clearly laid out plot, character, problem, and setting in the first book so that the reader wouldn't be confused anymore when the second book comes. I didn't see this in Furyborn, so majority of the time I was confused. I was only able to really get into the book around 60% of it, and that it bad for a fantasy lover like me. Like I said earlier, I almost DNFed this.
4. Forgettable and annoying characters.
5. Needs a more substantial plot diagram.
6. Plot twists weren't really plot twists
7.The book tried to be complex but it failed.
8. I didn't know if this book was a fantasy, science fiction, or a contemporary one because of the constant changing themes.
9. Stupid decisions made throughout the whole book.
10. An attempt to put LGBTQ+ themes, but it also didn't work. Nice try though.
I would have given this a lower star rating, but if it weren't for the few likes I got from the book.
Would I read the second book? I don't know.