Raised in a clan of imperial spies and assassins, half-elf orphan Jie has only known a love for the blade… until now.
During a deep cover mission, a forbidden affection blossoms with a fellow clan member.
When rebels learn their true identity, and Jie uncovers a plot against the emperor, she must choose between love and duty.
Because when faced with brewing rebellion, your decisions could save an empire…
Or topple it.
My Thoughts
""We're like the Steel Orchids. I trust each and every one of them with my life."

"You have a blind spot with us.""

Thorn of the Night Blossom, J.C. Kang
I would like to thank the author and Book of Matches Media for sending me a copy of Scions of the Black Lotus: Complete Tales of the Floating World, which includes Thorn of the Night Blossom in exchange for an honest review.
Trigger warnings: sex work, rape
The premise of this book being an Asian fantasy short series with similarities of Memoirs of a Geisha but with ninjas really perked up my interest to pick it up!
The first chapter of the book was where the bulk of the setting of the plot and the world-building were mostly happening. It was a lot to take into at first, but it eventually started to make sense as time goes on- especially with how the hierarchy in the Peony Garden and Black Lotus clan works. The descriptions of the locations were really well done, and I could almost imagine myself already transported into the world. I really enjoyed the abundance of Asian culture in this book because it was present from the smallest details, such as the food, to the largest ones like the salacious way of how a pleasure house works and the importance of it in both the lives of its workers and customers. It just showcased a lot of the Chinese-inspired elements that just made the story even more exciting.
Plot-wise, it was very fast and straightforward. Even though it was only 163 pages long, the author was able to present a very well-thought out storyline complete with engaging characters, a superb problem with its inner conflicts, and a whole lot of twists and turns. It was just really very entertaining, and I found myself flipping quickly through the pages, eager to know what happens next. It was already a complete package I always enjoy in fantasy novels, even with its small size.
I'm definitely interested in reading the other books in this series, because I really want to know how things will play out. It also doesn't hurt that this is just part of a bigger universe, so many more books will come! Yay!
My Rating
About The Author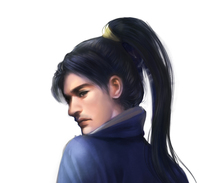 JC Kang's unhealthy obsession with Fantasy and Sci-Fi began at an early age when his brother introduced him to The Chronicles of Narnia, Star Trek, and Star Wars. As an adult, he combines his geek roots with his professional experiences as a Chinese Medicine doctor, martial arts instructor, and technical writer to pen epic fantasy stories.
Author Website | Twitter | Patreon