Top Ten Tuesday is a book blog segment created by The Artsy Reader Girl to spread the love of list making about almost everything under the sun – especially books.
"Books train your mind to imagination to think big."

Taylor Swift
Reading has always never been my hobby as a kid. My first love was drawing and painting, and my parents were very supportive in that creative aspect of my life while growing up. It went from heaps of crayons, sketchpads, paints, to letting me take up art classes. As a kid who grew up without any form of technology in the household (the good ol' television was more than enough for me), drawing was a great distraction. Until something better came along that changed my life completely.
In this post I will be featuring the top books that helped me become the reader I am today. I always believe in children who enjoy reading at a very young age will eventually grow into lifetime readers.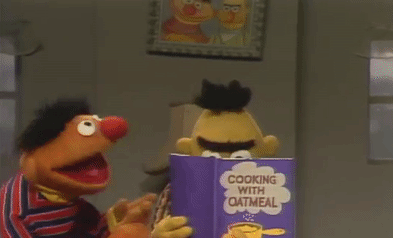 The Powerpuff Girls Comic Books
My younger sister and I were obsessed with The Powerpuff Girls during our preschool years. We were basically living and breathing it. I even had PPG-themed 7th birthday party! My parents were fine with us being addicted to the show until one day my dad came home with 2 Powerpuff Girls comic books for us, and we started to collect them like crazy – and the rest was history. This is practically my first fandom too!
Newspaper comic strips
Newspapers being delivered everyday to houses were still a thing before, and if I was more than bored enough back then, I'll ask my parents for the comics section to read. I found a great appreciation for Garfield, Snoopy and the Peanuts Gang, Calvin and Hobbes. My sister has a great addiction to Snoopy, so until now we're on the quest of collecting as much The Peanuts comic book compilations that we can find.
W.I.T.C.H. Comics
If some people start reading because of Harry Potter, then I'm not one of those – my reading career definitely began with comic books. I was a very huge W.I.T.C.H. girl growing up. I was in first grade (7 years old little me) when my seatmate had brought her copy and then showed it to me. That was the point in my life that I started to look forward to reading more these comics, and I also met my very best friend for 17 years and counting. I would only also get these comics only after I get really high grades on my monthly exams (a typical Asian parenting style lol), so my friend and I would often borrow each other's copies.
Nancy Drew by Carolyn Keene
The Nancy Drew books were probably the start of me being introduced to books with less pictures. I just randomly chosen one from our school library and then I really loved it. My mom (who happened to grow up also reading these books) noticed, and started to gift me these gorgeous hardcovers every year for my birthday. Even I'm an adult already, I would still want to collect all of these books because they're timeless and beautiful to look at on shelves.
Geronimo Stilton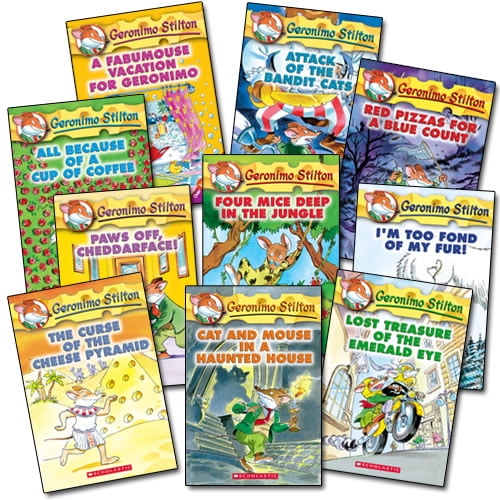 Who doesn't remember the famous Scholastic Inc. Book Fair that goes to schools every year, and introducing us to the ever widely known Geronimo Stilton? He definitely changed a lot of kids' reading lives back then, including mine. We only had a few copies of the books, but it was more than okay because our school library had all the copies in its shelves so I'll just borrow them all the time.
Pugad Baboy Comics by Pol Medina Jr.
Pugad Baboy is a Filipino comic book volume collection written and illustrated by Pol Medina Jr. that is about a community of very large characters and a talking dog. While being a comic book, it is also a political-heavy satire on the Phillippines' current situation. My parents are the ones who are fans of these comics and avidly collects them, so I may or may have not finished a lot of these volumes while growing up even though I couldn't understand most of the jokes back then. I was into it more for the comedy and drawings.
Time Almanac for Kids
The It book of the kids in the 2000s. I love getting these books every Christmas from my aunts – even the back issues! This not only helped me love reading more, but also shaped me into the big science geek that I am today.
Harry Potter series by J.K. Rowling
My mom was the hardcore HP fan in our house, so most of the books and DVDs were hers – and the books were even older than my sister! I grew up watching the movies first because I got so hooked into it, but it wasn't only until I was in 5th grade that I started to read the books which was just right in time for the release of The Deathly Hallows. No matter how JKR is cancelled by the book community, Harry Potter's legacy still lives in me and other people who enjoyed it.
The Chronicles of Narnia by C.S. Lewis
I actually borrowed this series from my other best friend (there's 3 of us, and she's the Narnia girl in the bunch, not the W.I.T.C.H one lol) because she loved this series so much, so I decided to give it ago. While some books in the series I wasn't impressed with, it still gave me a very lasting impression. I actually want to reread this series to see how it fares now to me now compared to my 12 year-old self's opinions.
What books got you into reading?