Everyone loves coming-home stories, especially when they include dogs and happy endings! From Steven Carino and Alex Tresniowski comes Oliver for Young Readers, a heartwarming and true story of a man searching for a beloved lost dog and finding more than he'd ever hoped for.
When Steven Carino discovered his dog, Oliver, had been stolen from his car, he knew he would do anything to get Oliver back. The friendly Yorkie–Shih Tzu mix—with his bundle of black and brown hair, long floppy ears, and big round eyes—had been Steven's companion during even the loneliest days. But it took more than one man to bring Oliver home. It took a community of friends and strangers who believed that love is worth fighting for.
Oliver for Young Readers offers a story of good triumphing over despair, a beautiful reminder that a little kindness can truly change the world.
My Thoughts
"When it works, all the rest is just noise."

By Mistake, Sigal Ehrlich
I would like to thank Thomas Nelson Children's for sending me a copy of this book over at Netgalley in exchange for an honest review.
This is a true life story about the author's experience of having his dog and best friend, Oliver, stolen and away from him for an entire week.
I've always been a huge dog lover with my 6 dogs, so I've always had a huge heart for books featuring dogs. With the adorable puppy on the cover, I was more than excited to get into this book, knowing fully well that I would laugh and cry very hard. As a dog owner myself, I know the experience of how much dogs means in a person's life, especially if you developed a special and unique bond with them. And also having the same experience of looking for a missing pet, I totally understand the thoughts and sentiments the author had in this venture, since losing a pet is always going to be a pet owner's worst nightmare. It was both a very endearing and very sad story for any pet owner, because the author really poured his heart and soul into writing the terrible journey of looking for Oliver.
I really enjoyed how this book was written for young readers, but it's definitely still applicable to be read by adults. It was almost like written like as a personal diary, so it was nice to have every single detail not left out. Plus, it also had these adorable little snippets from Oliver's point of view and mini Oliver stories inserted in between chapters that made it very appealing to any reader. Those snippets made me smile a lot because it gave Oliver such a character.
While I'm not really into the religious aspects surrounding this story, I actually really liked the themes of love, hope, friendship, and family that was very prevalent in this story. I had to admire the author for putting out his thoughts like that even in the most difficult time for him. I love how strangers he had never met gave him a new perspective in his life as they helped him look for Oliver. This was obviously a book that was so much more than looking for a missing dog, and I really enjoyed it.
This book just really made me want to hug my dogs very tightly afterwards and made me even more grateful to have them with me. I'm definitely going to recommend this book to all people (even if they're not pet owners) because of the immense amount of joy it just gave me. I also need a physical copy of this book to add to my dog book collection.
I'm so happy that Steven and Oliver are with each other again!
My Rating
About The Author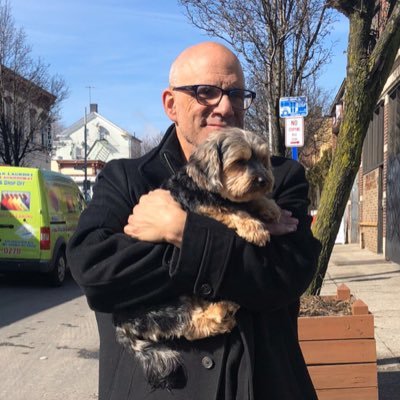 Steven Carino was born in Huntington, New York. The youngest of five children, he graduated from SUNY Brockport with a Bachelor of Science in American History. He worked as a DJ in New York City before launching careers in advertising and real estate and starting his own employment agency. Today, Steven has his own driving business and lives in a cottage in Bedford, New York, with his best friend, Oliver, and an array of sheep, goats, chickens, a horse, a rooster, and a mini-cow named Anna Belle. Oliver is Steven's first book.
Author Website | Twitter | Instagram