Chloe Wynchester is completely forgettable—a curse that gives her the ability to blend into any crowd. When the only father she's ever known makes a dying wish for his adopted family of orphans to recover a missing painting, she's the first one her siblings turn to for stealing it back. No one expects that in doing so, she'll also abduct a handsome duke.
Lawrence Gosling, the Duke of Faircliffe, is tortured by his father's mistakes. To repair his estate's ruined reputation, he must wed a highborn heiress. Yet when he finds himself in a carriage being driven hell-for-leather down the cobblestone streets of London by a beautiful woman who refuses to heed his commands, he fears his heart is hers. But how can he sacrifice his family's legacy to follow true love?
My Thoughts
"I may be a tree, but you're the wind. Strong enough to shake the dead leaves from my branches, to carry pollen to the spring flowers. Air is invisible but essential… Without air, I can't breathe."

The Duke Heist, Erica Ridley
I received an e-ARC copy of this book personally from the author in exchange for an honest review.
This is my first Erica Ridley novel, and I was not disappointed, and it just made me even more curious to check out her other works.
The Duke Heist is a wonderful slow burn and witty historical romance featuring a rambunctious ragtag team of siblings with unique quirks and personalities, all working together to plot a heist to retrieve a precious family portrait from an illusive and haughty duke. A whirlwind of accidental kidnapping, pet fur, and funny great aunts resulted in a very sweet romance in the end. This book was also more than just romance, but it also featured the love of family, no matter where they all came from.
The Wynchesters were the main highlights of this book. I loved every one of them from the first moment they appeared together, showcasing their individual personalities and their "jobs" within the family. I always loved a found family trope in a story, and this one fits the bill. All of their interactions and love for one another was a huge spread for the reader, and it all took a lonely rich baron to adopt them all and turn them into a family that is more precious than a blood family will ever will. Their relationship reminded me a little bit of The House in the Cerulean Sea because it was just that easy, adorable, funny, and full of love.
The romance between Chloe and Lawrence was uncanny and a definite slow burn. There was a lot of yearning in between them, especially since the things that were separating them from each other were the differences in their social status and Lawrence's need to find a wife with a huge dowry. While I'm a fan of bodice-ripping in my historical romances, but I also appreciate how their relationship took a bit of a while to develop and blossom, focusing on getting to know each other more, before the bodice-ripping action happened around halfway through the book. I actually enjoyed a lot of the tender moments that occurred between them, because it showcased their vulnerable and insecure sides, and they both helped each other grow from them (of course with the help of the other Wynchesters). I liked Chloe and Lawrence separately, but I'm more fond of them together.
While this is technically a heist book, I totally forgot the heist aspect of it, and instead got more involved with each of the characters' antics. The characters just really drove the story forward, and I found myself finishing this book quickly than I anticipated.
It was such a joyful first entry for me in the author's works, and I can't wait to get my hands on the next books of the other Wynchester siblings! Especially since the next one will feature another adorable LGBTQ+ romance between Tommy and a certain bookworm friend of Chloe!
My Rating
The Duke Heist will be out on February 9th, so better pre-order your copies now!
About The Author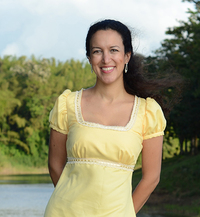 Erica Ridley is a New York Times and USA Today best-selling author of historical romance novels, including the upcoming THE DUKE HEIST, featuring the Wild Wynchesters. Why seduce a duke the normal way, when you can accidentally kidnap one in an elaborately planned heist?
In the 12 Dukes of Christmas series, enjoy witty, heartwarming Regency romps nestled in a picturesque snow-covered village. After all, nothing heats up a winter night quite like finding oneself in the arms of a duke!
Two popular series, the Dukes of War and Rogues to Riches, feature roguish peers and dashing war heroes who find love amongst the splendor and madness of Regency England.
When not reading or writing romances, Erica can be found riding camels in Africa, zip-lining through rainforests in Costa Rica, or getting hopelessly lost in the middle of Budapest.
Author Website | Newsletter | Facebook | Twitter | Instagram