As you guys have porbably figured out by now, I'm a huge fan of Brandon Sanderson's books, particularly the books in his Cosmere universe. All the books are living rent-free in my head since I started them last year, and I actually just finished reading The Bands of Mourning earlier, and I'm now planning to reread again The Stormlight Archives.
I first found this over at Nads Book Nook, It was originally created by Shelby at Read and Find Out. Make sure to check out their links so you could see what their answers are!
Elantris: Name a book where magic fails its people
I actually had a hard time looking for a book that matched this description, since I've not encountered anything like it from what I could remember. But then Lev Grossman's The Magicians trilogy popped into my head. This "Harry Potter but in college vibes coupled with booze, drugs, and sex" series definitely had an amazing magic system but failed its main characters in so many ways across the entire series.
---
Mistborn: Fave ragtag gang
The Found Family trope is one of my most favorite book tropes ever, and I'm always here for books that will feature an odd ragtag group. My love for this trope began when I first read Six of Crows by Leigh Bardugo many years ago. I'm sure fellow fans also love the Dregs and their many antics!
---
Warbreaker: Interesting family dynamic
Warbreaker had an obvious family/sister dynamic between Siri and Vivenna, and the book that I immediately thought of with a great sisters dynamics are the Brown Sisters from Talia Hibbert's books, namely Get a Life, Chloe Brown, Take A Hint, Dani Brown, and Act Your Age, Eve Brown. All three of them are so different and unique, but their relationship are something that I absolutely adore. If you haven't read any of these books, then you're missing out a lot!
---
Stormlight Archive: Longest book you've ever read and longest on your TBR
Rhythm of War is actually the longest book in my current TBR, and Oathbringer is the longest book I've read so far, but I think it's cheating if I use these books for this tag. So, the longest book (and the next heaviest after RoW) on my TBR shelf is Diana Gabaldon's A Breath of Snow and Ashes, the 6th book in the Outlander series and it has a whopping 993 pages.
---
Alloy Era: Series continuation (prequel/sequel) you didn't like as much as the original
The Wax and Wayne series (or I so fondly call the Yeehaw Mistborn) is definitely a less popular choice among the Cosmere fans, but I love it because it has a different sort of appeal compared to the original Mistborn trilogy. The sequeal series that I didn't love as much as I thought I would be the Spirits and Thieves series by Morgan Rhodes . The Falling Kingdoms series is a YA fantasy series that I really enjoyed, but when I read the first few chapters of A Book of Spirits and Thieves, I just couldn't get myself into it that time because the magic of the original series was still fresh in my mind.
---
White Sand: Underdog you root for
White Sand is probably the only Cosmere series I have not read yet (though I plan to in the future!). The underdog character I'm rooting for is Kaul Shae from the Green Bone Saga by Fonda Lee. I've only read Jade City so far, but I was already so impressed with Shae's character among their family, and I can't wait to see more of her develop in the next books.
---
Arcanum Unbounded: favorite anthology
I am actually bad at keeping up with novellas in any series, since I tend to read them all in one sitting when I finish the series. I also haven't read a lot of anthologies yet, but I've been eyeing A Thousand Beginnings and Endings compiled by Ellen Oh and Elsie Chapman. It's a recommendation given to me by a friend. It's a collection of re-inspired Asian folklore tales written by Asian authors, and I actually saw that both Roshani Chokshi and Melissa Dela Cruz have written pieces inspired by some of the Filipino myths we have in the country!
---
Investiture: Coolest magic system
In its simplest definition, the Investiture is the source of power of all the magic systems within the Cosmere. One of the things I love about the Cosmere because of how intricate and well-thought out Brandon Sanderson's magic systems are with each book/novella he writes. Aside from his books, a mind-blowing magic system I also absolutely adore is the one featured in The Bone Season series by Samantha Shannon. If you haven't read this series yet, then please do.
---
Shadesmar: Book with alternate realms 
Shadesmar is also a very spoiler-y word within the Cosmere universe, so I won't be saying anything else lol. The latest book I've read with an alternate world is the Daevabad trilogy by S.A. Chakraborty. I only read the first book so far, but I immediately fell in love with this world as soon as it was introduced. I actually can't wait to dive in deeper into it with the other books in the future.
---
Feel free to do this tag, if you want to!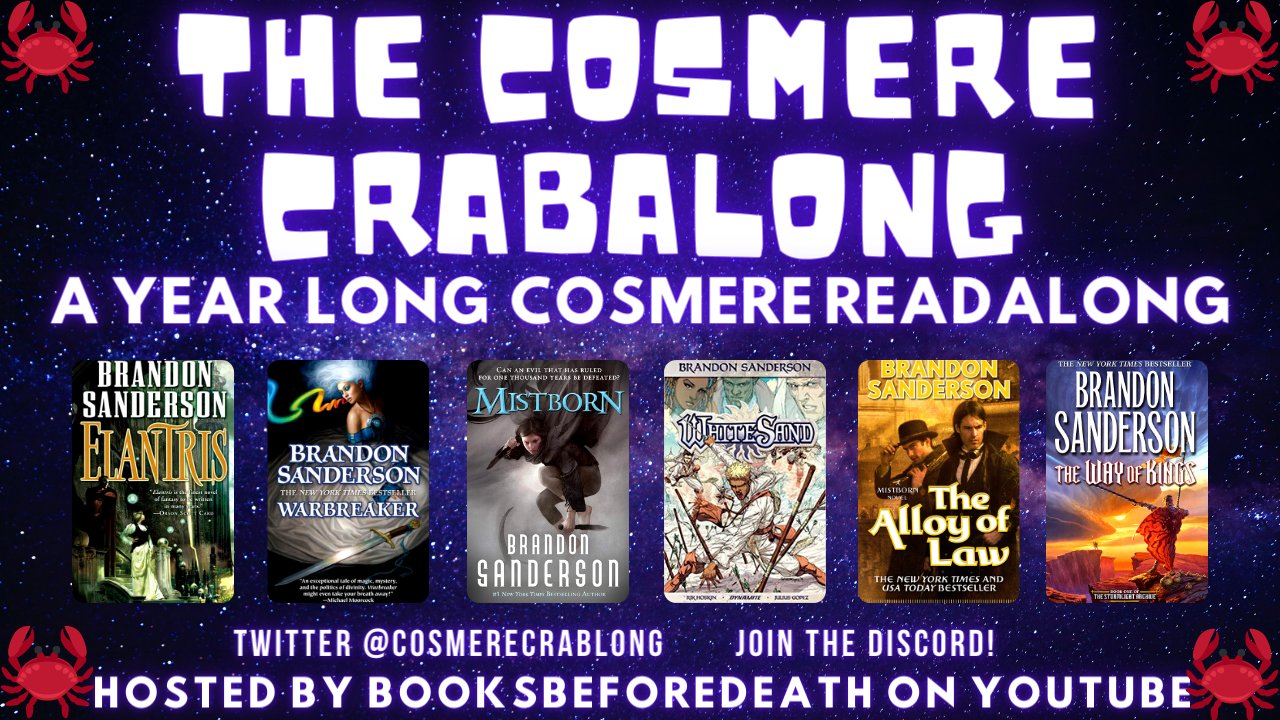 I'm also inviting you all to join our The Cosmere Crabalong over at Discord!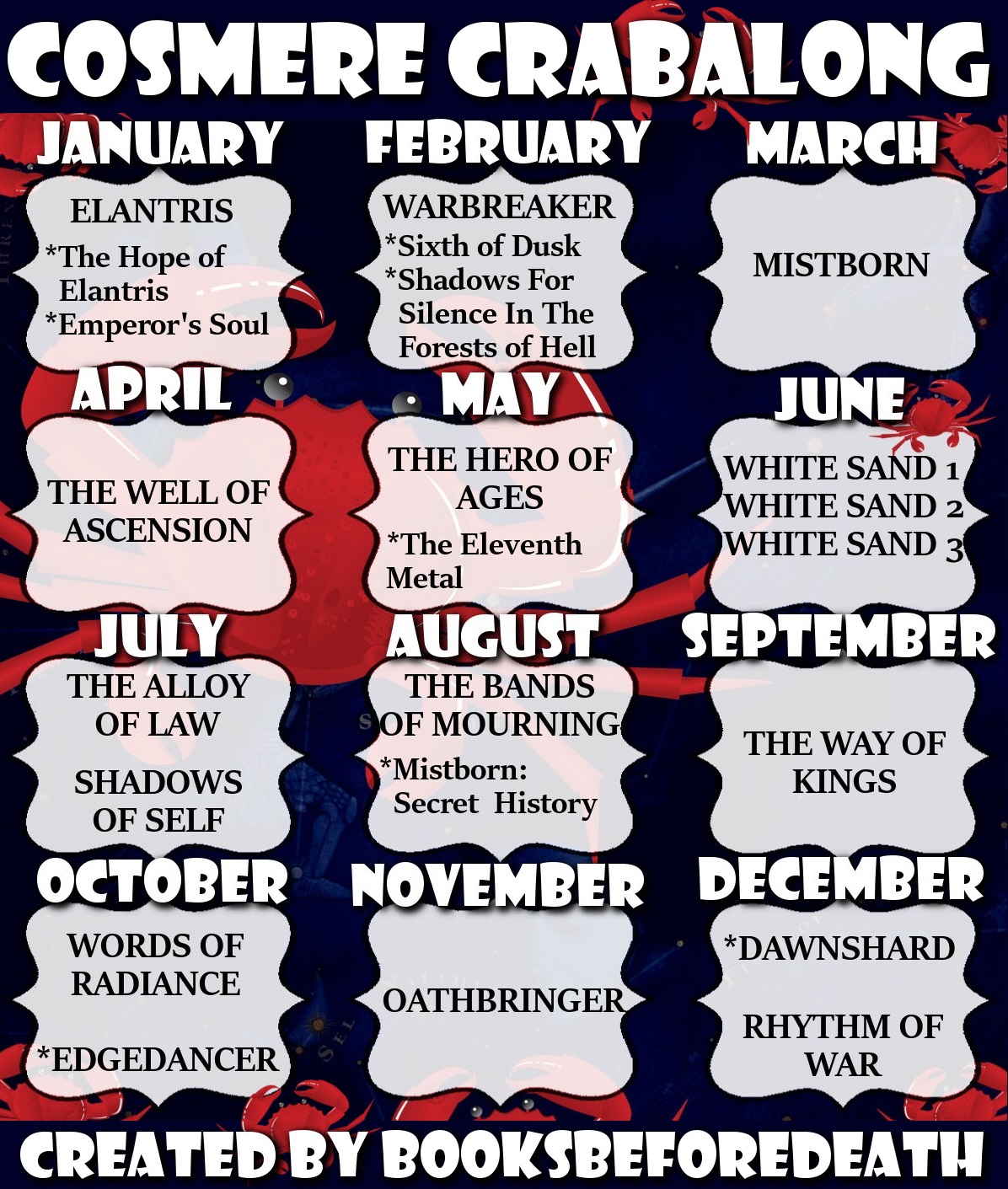 The Cosmere Crabalong is a year-long readathon for all of the books in the Cosmere universe written by Brandon Sanderson. It is hosted by the lovely Brianna and Casey of BooksBeforeDeath on Youtube and Twitter.
It has been a very fun experience so far with fellow newbies and oldies of the Cosmere, so everyone is highly encouraged to read or reread along with us! Most of the discussions (and a lot of random stuff) are done over at the Discord server, but liveshows are scheduled at the end of the month! For March, we're doing the first book of the Mistborn Era 1 trilogy – The Final Empire.
So come and crabalong with us! Everyone is welcome! I actually adore the people I've met in this readathon, and they've been amazing people to talk with about both the Cosmere books and practically anything!