Princess Kaiya's voice could charm a dragon.
Had she lived when the power of music could still summon typhoons and rout armies, perhaps Cathay's imperial court would see her as more than a singing fool. With alliances to build and ambitious lords to placate, they care more about her marriage prospects than her voice.
Only the handsome Prince Hardeep, a foreign martial mystic, recognizes her potential. Convinced Kaiya will rediscover the legendary but perilous art of invoking magic through music, he suggests her voice, not her marriage, might better serve the realm.
When members of the emperor's elite spy clan– Kaiya's childhood friend Tian and his half-elf sidekick (or maybe he's her sidekick?)– discover mere discontent boiling over into full-scale rebellion, Kaiya must choose. Obediently wedding the depraved ringleader means giving up her music. Confronting him with the growing power of her voice could kill her.
My Thoughts
"Seize the song's emotion and make it your own."

Songs of Insurrection, J.C. Kang
You guys should know how much I absolutely love @jc.kang 's A Legends of Tivara, an Asian-inspired high fantasy world that is full of magic, war, politics, and countless character and relationship dynamics. I actually just finished reading Songs of Insurrection, the first book in this series that has amazing magical instruments, tons of court intrigue, and of course, dragon legends!

To celebrate the massive rebranding of Songs of Insurrection, it currently has a pre-order sale for only $2.99, and if you pre-order, you'll get a 6×9 double-sided glossy art print! You wouldn't want to miss this!
Make sure to check out my latest bookstagram post tonight because we're doing a massive international giveaway for this book tour, featuring a signed copy of Thorn of the Night Blossom and a 6×9 double sided glossy art print! All rules and mechanics will be posted there, so check it out!
I received an e-ARC of this book from the Dragonstone Press & Book of Matches Media in exchange for an honest review.
I have read and enjoyed JC Kang's Scions of the Black Lotus Clan series with Thorn of the Night Blossoms: A Legends of Tivara Story as its first book, and I was eager to read more of his other books within this fantasy world, hence I was excited that Songs of Insurrection had gotten a major revamping.
This multi-POV book follows the story of Princess Kaiya as she learns of her unleashed musical powers, and Jie and Tian working within the Black Lotus Clan, and how their worlds are being forced together by the ongoing political machinations of the surrounding countries, the looming threat of a massive war, and a possible traitor among their numbers.
Plot-wise, it was very fast-paced and engaging, and I found myself flipping quickly through pages to know more what would happen next in the next chapter. It has a lot of elements in an epic fantasy novel that I love, and it was just well-written and satisfying to see them acting out on the pages. However, I only had a slight problem with the amount of info-dumping regarding the politicking and war preparations. There was just a portion in the first 1/3 of the book where a lot of this happened in one huge chunk, and I found myself rereading those particular chapters over and over again just to understand it, especially with the unusually huge number of people involved in this political scheming. It just stalled the story for me a little, but I was glad that it was able to recover. The rest of the story continued on with a high note, and there were twists that caught me off guard, which is a bonus point.
I always adored Jie and Tian from the other series, so I was really happy to see more of them in this one, and how much of their relationship has changed since then. I expected nothing less from their characters, and their character work was consistent and level-upped at the same time in a lot of ways. Princess Kaiya was a character I didn't expect – plain, awkward, and bashful. She was so different from Kang's other characters that I didn't know what to think of her. But she slowly grew on me as her resolve strengthened, and she was able to break against the stereotype that was expected of her. I am definitely excited to see her grow into her new role more as this series goes on.
The author knows how to work his background into his stories and incorporate it into one massive fantastical and huge world full of culture, mythology, and magic. I especially love how the intermingling of different Asian cultures were spread out through this book, and as an Asian reader, it was so satisfying to see representations among different parts of the continent, so it was so easy to picture which was which, and what belong to what. It was also a very atmospheric novel, and a reader can easily place themselves immediately into the story, and feel the emotions and tension within its pages.
I am so eager to know what happens next!
My Rating
About The Author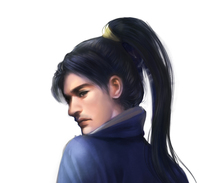 JC Kang's unhealthy obsession with Fantasy and Sci-Fi began at an early age when his brother introduced him to The Chronicles of Narnia, Star Trek, and Star Wars. As an adult, he combines his geek roots with his professional experiences as a Chinese Medicine doctor, martial arts instructor, and technical writer to pen epic fantasy stories.
Author Website | Twitter | Patreon