Key West is the ideal backdrop for the summer read you need! Perfect for fans of Abby Jimenez, Jasmine Guillory, and Jen DeLuca, this gorgeous and stirring new love story from the author of Island Affair will touch your heart…
Award-winning photographer Alejandro Miranda hasn't been home to Key West in years–not since he left to explore broader horizons with his papi's warning echoing in his ears. He wouldn't be heading there now if it wasn't for an injury requiring months of recuperation. The drama of a prodigal son returning to his familia is bad enough, but coming home to the island paradise also means coming face to face with the girl he left behind–the one who was supposed to be by his side all along…
Anamaría Navarro was shattered when Alejandro took off without her. Traveling the world was their plan, not just his. But after her father's heart attack, there was no way she could leave–not even for the man she loved. Now ensconced in the family trade as a firefighter and paramedic, with a side hustle as a personal trainer, Anamaría is dismayed that just the sight of Alejandro is enough to rekindle the flame she's worked years to put out. And as motherly meddling pushes them together, the heat of their attraction only climbs higher. Can they learn to trust again, before the Key West sun sets on their chance at happiness?
My Thoughts
"No matter where our jobs take us, as long as our hearts remain anchored together, I'd say we're all good"

Anchored Hearts, Priscilla Oliveras
I received a review copy of this book from the publisher via Netgalley in exchange for an honest review. Anchored Hearts will be out on April 27th, 2021.
Anchored Hearts features two of my most favorite romance tropes – second chance romance and "the one who got away". These two tropes just really hit a sweet spot in my heart, and I've always been a fan, hence it got me excited to see both of them in one book. It also didn't hurt that this book is set in the beautiful area of Key West, Florida, and is full of Cuban influences.
The book tells about two high school sweethearts who had an awful falling out after Alejandro leaves the island to chase his dream of becoming a photographer rather than being tied down by his family's restaurant business, and leaving Anamaria behind. After 12 years, Alejandro suddenly finds himself back in his hometown after having a bad accident, and then has to endure the onslaught of meddling family members, and of course, crossing paths once more with Anamaria.
Anamaria and Alejandro were obviously very strong characters with tons of personality. I enjoyed that both were very goal-driven in their respective jobs, yet at the same time sensitive and soft-hearted towards their family and community. They were both a joy to read separately and together, although I did felt like this was more focused on Alejandro, especially since he has a beef with his father. Since the book was more family-centered than what I usually see in rom-coms, the build-up of Anamaria and Alejandro's romance was super slow burn, but it did give them a chance to reconnect and rediscover one another. It wasn't only until the last few chapters of the book that the romance aspect in their relationship took on an octave. It also wasn't as steamy as I expected it would be, but I don't mind it at all.
I have to commend the author for providing an amazingly detail world and atmosphere in her book. It was super evident that she had written the setting and details based from her own experiences, hence the Latin culture is very apparent. From the incorporation of Spanish in the characters' everyday language to the minute details such as the food and landscape were spectacular. It just made me really want to visit Key West and just immerse myself in the community.
If you're looking for a very sweet and feel-good book, then I do highly recommend this book. This is also part of a series, but each book can be read as a standalone. I'm definitely looking forward to reading Island Affair and the next book in this series.
My Rating
About The Author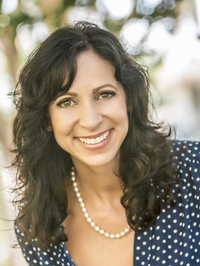 PRISCILLA OLIVERAS is a USA Today bestselling author and 2018 RWA® RITA® double finalist who writes contemporary romance with a Latinx flavor. Proud of her Puerto Rican-Mexican heritage, she strives to bring authenticity to her novels by sharing her Latinx culture with readers. She and her work have earned praise from the Washington Post, New York Times, Entertainment Weekly, Redbook, Publishers Weekly, and Booklist, among others. Priscilla earned her MFA in Writing Popular Fiction from Seton Hill University and currently serves as adjunct faculty in the program and teaches the online class "Romance Writing" for ed2go. While she's a romance genre junkie, Priscilla also considers herself a sports fan, beach lover, and Zumba aficionado, who often practices the art of napping in her backyard hammock.
Author Website | Instagram | Twitter