What would you change if you could go back in time?
In a small back alley in Tokyo, there is a café which has been serving carefully brewed coffee for more than one hundred years. But this coffee shop offers its customers a unique experience: the chance to travel back in time.
In Before the Coffee Gets Cold, we meet four visitors, each of whom is hoping to make use of the café's time-travelling offer, in order to: confront the man who left them, receive a letter from their husband whose memory has been taken by early onset Alzheimer's, to see their sister one last time, and to meet the daughter they never got the chance to know.
But the journey into the past does not come without risks: customers must sit in a particular seat, they cannot leave the café, and finally, they must return to the present before the coffee gets cold . . .
Toshikazu Kawaguchi's beautiful, moving story explores the age-old question: what would you change if you could travel back in time? More importantly, who would you want to meet, maybe for one last time?
My Thoughts
"No matter what difficulties people face, they will always have the strength to overcome them. It just takes heart. And if the chair can change someone's heart, it clearly has its purpose."

Before the Coffee Gets Cold, Toshikazu Kawaguchi
Before the Coffee Gets Cold has been on my radar for a few months now, and I honestly didn't know anything about it aside from the fact that it features a magical coffee shop – and I was so down for that idea. This very quick, almost lyrical, and highly whimsical novel features a coffee shop in Tokyo that is infamously known to offer time traveling services but with a lot of highly specific rules to follow. Four different sets of stories are followed, but all these stories are connected in more ways than just being in the coffee shop.
I actually liked the idea of time-travelling presented in this book, because it was so specific and contained, and even almost absurd, but the rules and conditions totally made a lot of sense. It was a concept of time-travelling that I don't often see in any media, so that really earned a lot of brownie points for me. I also liked that the stories just didn't explore going into the past, but dabbled with the future too. The idea of a coffee shop becoming a time-travelling location is really boggling, but it totally works for this story.
Story-wise, it was pretty straightforward but had that air of whimsy to it that I often find in other Japanese magical realism novels, so it felt very familiar. While it was a bit predictable, I still pretty much enjoyed the story from start to finish. The characters' stories were very heartfelt, and I did find myself liking them a lot, though probably not as much as I expected myself to be. While they were very human and real characters, I felt like there was still some sort of detachment towards them, hence I couldn't make myself put myself into their shoes as much as I would have wanted to. Nevertheless, all their stories were really touching and why they wanted to time travel made so much sense. I may not have shed a tear, but it did made my heart ache just a tiny bit.
I'm definitely keen to recommend this to anyone who just wants an easy-going yet heartfelt novel that you can enjoy in one sitting while sipping your cup of coffee in your favorite reading spot.
My Rating
Goodreads | Amazon | Book Depository
About The Author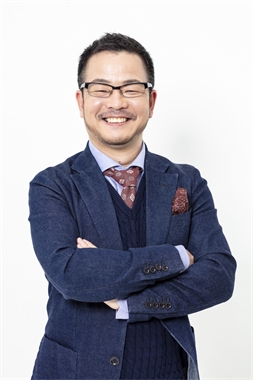 Toshikazu Kawaguchi (in Japanese: 川口 俊 和) was born in Osaka, Japan, in 1971. He formerly produced, directed and wrote for the theatrical group Sonic Snail. As a playwright, his works include COUPLE, Sunset Song, and Family Time. The novel Before the Coffee Gets Cold is adapted from a 1110 Productions play by Kawaguchi, which won the 10th Suginami Drama Festival grand prize.