Hey, everyone! I won't be able to post a review for this book (as I only received the book yesterday lol), but I'm more than honored to present the release of this new summer rom-com anthology: Summer in the City! I got personally invited to join on this tour by one of the authors, Priscilla Oliveras, after I raved about her book Anchored Hearts.
All information and purchase links about the book are mentioned below. I hope you guys will be able to grab yourselves a copy, and enjoy the summer season!
Summer in the City
by Lori Wilde, Priscilla Oliveras and Sarah Skilton
Publisher: Kensington 
Genres: fiction, romance, contemporary
Release Date: May 25, 2021
Links:
Blurb
Each connected novella in this fun, fresh Rom-Com anthology follows a different woman from a group of NYC friends whose plans to escape the summer heat with a fabulous girls-only weekend suddenly lose steam when an unexpected blackout cuts off power to all of Manhattan. But while the lights are out, enemies become lovers, acquaintances find they have more in common than a pack of matches, and the city really heats up!
There's nothing like summer in Manhattan. The days are long and the nights are even longer. But when the lights go out in the city, fireworks explode…
Night at the Museum by Lori Wilde
Art restorer Ria Preston knows a thing or two about beauty. And when she discovers her neighborhood crush, gregarious Wall Street advisor Vic Albright, is stuck overnight in the Metropolitan Museum of Art with her, she can't resist taking him on a very private tour…
Lights Out by Priscilla Oliveras
Back in high school, Vanessa Ríos and Mateo Garza were theater troupe rivals. Now Mateo's a rising Broadway star and Vanessa's his most scathing critic. Cue a plot twist straight out of central casting: the two end up alone in his New York City apartment during the blackout, setting the stage for what could be their second act romance . . .
Mind Games by Sarah Skilton
What happens in college stays in college–unless you never get over it. In fact, Alison has been waiting to take her revenge on Nick, once the hottest guy on campus, now the hottest guy on the rising magician's circuit. But her plans to sabotage his first show are upended by the power outage. That's when the real magic happens…
---
Review Quotes
"A steamy trio of rom-com stories that is best savored slowly." –Kirkus Reviews
"The quick stories complement each other, while fulfilling their own narratives. Readers looking for short summer romances would do well to pick up this latest anthology."- Library Journal
---
About The Authors
Lori Wilde is the New York Times, USA Today, and Publishers Weekly bestselling author of nearly 100 works of romantic fiction. Her books have been translated into 26 languages, with more than four million copies sold worldwide. She's a three-time Romance Writers of America RITA(R) finalist, a four-time RT Book Reviews' Readers' Choice Award-nominee, and the recipient of numerous other awards. A registered nurse, she holds a certificate in forensics and is also a certified yoga instructor. Lori is a fifth-generation Texan and lives with her husband in the Cutting Horse Capital of the World, where they run Epiphany Orchards, a writing/creativity retreat for the care and enrichment of the artistic soul.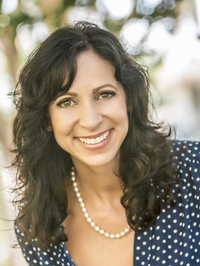 Priscilla Oliveras is a USA Today bestselling author and 2018 RWA(R) RITA(R) double finalist who writes contemporary romance with a Latinx flavor. Proud of her Puerto Rican-Mexican heritage, she strives to bring authenticity to her novels by sharing her Latinx culture with readers. Her work has garnered praise from O, The Oprah Magazine, Washington Post, New York Times, Entertainment Weekly, Publishers Weekly, and Booklist, among others. Priscilla earned her MFA in Writing Popular Fiction from Seton Hill University and now serves as adjunct faculty in the program while also teaching the online class Romance Writing for ed2go.
Author Website | Twitter | Instagram
Sarah Skilton is the author of two critically acclaimed young adult novels, Bruised and High & Dry, and was a 2018 Edgar awards judge. For adults, she's written romantic comedies as well as a murder mystery, Club Deception, set in a fictional underground magic club. Writing with Sarvenaz Tash, she is the co-author of Ghosting: A Love Story, which Kirkus called, An energetic romance that would make Nora Ephron proud. Sarah lives in Los Angeles