On the island of Kekon, the Kaul family is locked in a violent feud for control of the capital city and the supply of magical jade that endows trained Green Bone warriors with supernatural powers they alone have possessed for hundreds of years.
Beyond Kekon's borders, war is brewing. Powerful foreign governments and mercenary criminal kingpins alike turn their eyes on the island nation. Jade, Kekon's most prized resource, could make them rich – or give them the edge they'd need to topple their rivals.
Faced with threats on all sides, the Kaul family is forced to form new and dangerous alliances, confront enemies in the darkest streets and the tallest office towers, and put honor aside in order to do whatever it takes to ensure their own survival – and that of all the Green Bones of Kekon.
Jade War is the second book of the Green Bone Saga, an epic trilogy about family, honor, and those who live and die by the ancient laws of blood and jade.
My Thoughts
"The clan is my blood, and the Pillar is its master," she whispered. "I have a lot of regrets in life, but those oaths aren't one of them."

Jade War, Fonda Lee
Jade City was one of my best reads of 2020 (check out my review here), and it was already a very strong start to an epic trilogy. I was promised by friends and fellow fans that the second book doesn't disappoint – and it didn't. I could literally count on my fingers books that don't fall into the "middle book syndrome" box, and Jade War is one of them. Instead, it went even beyond what it had showcased in its first installment, and provided an even more explosive, mind-boggling, and intense events and twists. It was so good of a sequel that even though it gave me tons of grief and pain, I loved everything about it.
Diversity & Representation
One of my most admired bits about this trilogy is the tremendous amounts of themes and representation it presents to its readers, and readers get to have so much more of it here in Jade War. All of these pieces fit perfectly into the story without sounding too pushy and harsh. What I really enjoyed about it was that it showed multiple facets of it – whether for the good or bad. My most favorite highlights were about:
Strong, powerful women in positions of power in a highly toxic masculine environment, and how they used it to their advantage – for both the better and worse
The way diversity, such as race, culture, religion, and identity, was described and handled, and how it greatly affects all in spans of generations and living conditions.
More Expansive World-Building, Action, & Globalization
Jade War is definitely the book that finally explored the rest of its world, as compared to Jade City wherein the main focus of the story was centered around Kekon. The more focused and contained location in book one helped establish the primary locations of the story, but it hinted at the possibilities of other countries and cultures outside of its borders. The second book did just that, and while Kekon was still a major story location, we finally got to see more of the other countries and experience it. While I could gush about how lush the new locations were described, I absolutely love how it helped depict an even clearer image of the world, and how those living outside Kekon view perceive Kekonese and their jade culture. It just basically gave an even wider perspective towards this little island, and it was an observation from another side of a story. I even admire the way we get to see Kekonese immigrants and their children live in their new locations for many years, and how it affected their lifestyle and perceptions towards their motherland. It was just a massive chef's kiss for me.
With the introduction of globalization in this book, the issues and politics surrounding it obviously follows. This is the book that I believe finally gets to shine a light on the business and political side of this world. Jade City may showcase majority of the Horn's power and strength in its pages, but on the other hand, Jade War is the Weather Man's territory. Even though there are still amazing and brutal action and fighting scenes that will keep you on your toes, the real machinery of this book lies in the business, alliances, political, and economics. I may not be well-versed with the business and political world (as my line of study and work is towards the natural and medical sciences), but it was really well done and not overwhelming for those not as business-savvy or politically-inclined as I am, yet still find it highly entertaining and puzzling. It really gave a definition to another side of the war that's totally different from the side that uses swords and guns.
Realized Characters & Dynamics
All the characters in this series is just so flawed in every possible way, but it makes them so human, hence you can't help but not get invested so much into them. The narratives of the Kauls, specifically Hilo, Shae, Wen, and Anden, were so different yet appealed to me greatly. This book really explored how much more complex they all are, and had provided a greater character depth that simply amazed me and made me literally shout at them while I was reading. They all shined in their own unique ways – for both the good and the bad. Somehow, the author managed to make these characters even more fully realized than I thought would be possible.
Family is a very huge part of this series, and it's never without its internal and external conflicts. Jade War explored these family dynamics even further at great lengths, and how it functions. Aside from the clan relationships of the Pillar to his Horn and Weather Man and all those under him, it also gave the readers the chance to glimpse further into the more intimate family dynamics, and how these relationships and interactions affect the entire family, the clan, and the public eye. The relationship dynamics weren't solely reserved for the Kaul's intimate circle, but it branched out to include their allies, enemies, and other highly unexpected characters. It wasn't just limited to love in all forms, but it also explored corruption and betrayal so well.
Over-All Thoughts…
Jade War obviously made me fall in love with this trilogy even more, because it was just that good and mind-blowing. It will definitely make it to my top favorite reads this year, and I already know for a fact that Jade Legacy (coming out later this year) will also be included in this list. So if you still haven't started this awesome fantasy trilogy yet, then what are you waiting for?!
My Rating
Goodreads | Amazon | Book Depository
About The Author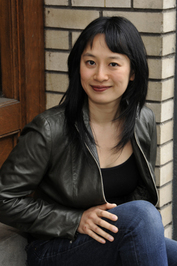 Fonda Lee is the World Fantasy Award-winning author of the epic Green Bone Saga, beginning with Jade City and continuing in Jade War and Jade Legacy. She is also the author of the acclaimed science fiction novels Zeroboxer, Exo and Cross Fire.
Fonda is as a three-time winner of the Aurora Award (Canada's national science fiction and fantasy award), and a multiple finalist for the Nebula Award, the Locus Award, and the Oregon Book Award. Her novels have garnered multiple starred reviews, been included on numerous state reading lists, named Junior Library Guild selections, and appeared on Best of Year lists from NPR, Barnes & Noble, Syfy Wire, and others.
Fonda is a former corporate strategist and black belt martial artist who loves action movies and Eggs Benedict. Born and raised in Canada, she currently resides in Portland, Oregon.