The Kaul family is one of two crime syndicates that control the island of Kekon. It's the only place in the world that produces rare magical jade, which grants those with the right training and heritage superhuman abilities.

The Green Bone clans of honorable jade-wearing warriors once protected the island from foreign invasion–but nowadays, in a bustling post-war metropolis full of fast cars and foreign money, Green Bone families like the Kauls are primarily involved in commerce, construction, and the everyday upkeep of the districts under their protection.

When the simmering tension between the Kauls and their greatest rivals erupts into open violence in the streets, the outcome of this clan war will determine the fate of all Green Bones and the future of Kekon itself.
My Thoughts
"Expectations are a funny thing," Wen said. "When you're born with them, you resent them, fight against them. When you've never been given any, you feel the lack of them your whole life."

Jade City, Fonda Lee
The word "mafia" was more than enough to convince me to pick this up this book, because I'm a huge fan of a mafia set-up in books, movies, and tv shows, but the sparkling reviews and persistent recommendations from my favorite booktubers and closest friends pushed me into finally giving it a chance. I'm also suing Fonda Lee for taking 2 consecutive sleepless nights from me just to finish this book (jk, of course).
This is an Asian-inspired Godfather-esque urban fantasy novel that primarily features two warring clans, tons of politicking, and a really unique yet specific magic system. The story itself is pretty fast, engaging, and straightforward, but it still was able put out twists and turns that will catch you off guard in so many unexpected ways. It just a tad bit predictable, which I slightly expected it to be since it follows a linear progression, and stuff that you normally anticipate in a great mafia crime novel is present here. While this was an expected "brute strength of the clan needs to be shown" type of thing, I just really enjoyed reading the family drama and business side of it as well. It was able to showcase a very well-rounded idea of the ins and outs of a mafia family on the cusp of a bloody war.
The world-building is a chef's kiss. Even though it is an urban fantasy, I loved all the elaborate details describing Kekon, the presence of multiple Asian-inspired cultures that I grew up and known, the battle and martial arts scenes, and even the addition of mythology and religion Every little detail played in the great scheme of the book, thus it gave me an amazing experience, and I felt like I was living inside the world. The magic system was flawless and clear-cut with its own history and rules. But what I really loved about it was that it had such a very big consequence when there is excessive jade use. It just balances it out so nicely, and it was a thrill to watch characters being affected by their own powers' hindrances.
Character-wise, it has a lot of very real and conflicted characters which just fits the over-all theme of the story. The multi-POV was an amazing way to introduce all major players and figure out how their minds and hearts work in great detail. Everyone just had a lot of depth into them that it makes you want to cheer them on and empathize with their struggles, but also a lot of flaws that wants you to hate them. I really loved each individual main character had such different backgrounds and personalities that they just blend and clash all together at the same time. While it was set in a so-called "man's world", readers would be able to still get highly empowered and independent female characters that have an important place in the society, but also male characters who are able to show weakness and vulnerability. Everyone got an equal footing to do better and prove for themselves.
Jade City definitely lived up to my expectations, and I can't wait to read the next book!
"Sometimes, Andy, the people you think you can count on, they let you down in a bad way, and that's hard to take. But for the most part, you give a man something to live up to, you tell him he can be more than he is now, more than other people think he'll ever be, and he'll try his godsdamned best to make it true."

Jade City, Fonda Lee
My Rating
Goodreads | Amazon | Book Depository
About The Author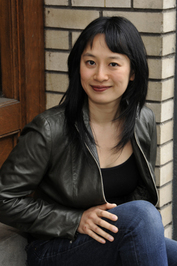 Fonda Lee is the World Fantasy Award-winning author of the epic Green Bone Saga, beginning with Jade City and continuing in Jade War and Jade Legacy. She is also the author of the acclaimed science fiction novels Zeroboxer, Exo and Cross Fire.
Fonda is as a three-time winner of the Aurora Award (Canada's national science fiction and fantasy award), and a multiple finalist for the Nebula Award, the Locus Award, and the Oregon Book Award. Her novels have garnered multiple starred reviews, been included on numerous state reading lists, named Junior Library Guild selections, and appeared on Best of Year lists from NPR, Barnes & Noble, Syfy Wire, and others.
Fonda is a former corporate strategist and black belt martial artist who loves action movies and Eggs Benedict. Born and raised in Canada, she currently resides in Portland, Oregon.